Tips for Onsite Office Relocations
Posted on 09 February, 2017 in
Relocating your business is often a positive experience. A bright new office with more space can inject fresh enthusiasm into the workforce. Many businesses who choose to move internally can underestimate the complexity of moving to another office within the same building or campus, thinking it will be a lot easier than moving across town. However, any office move is always going to require careful planning if it's going to go smoothly and cause minimum disruption to your business. Here are some top tips for a stress-free internal office move.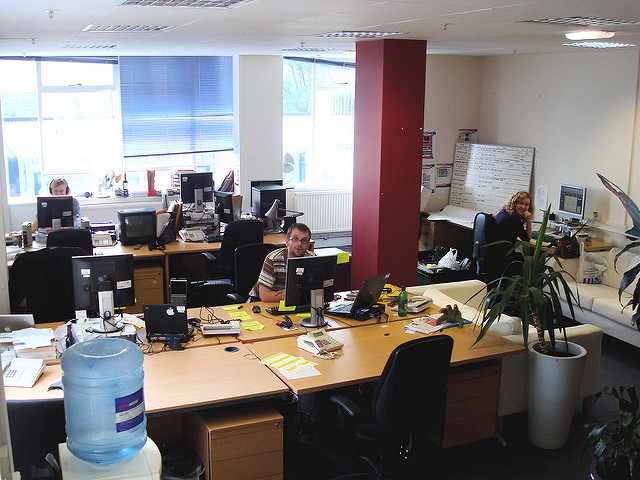 Image by Jeremy Tarling on Flickr
1. Plan Well in Advance
Planning is the single most important part of any office move. It's vital to start planning well in advance if you're going to cause minimum disruption to your business, as any downtime is going to lose you revenue. Forward planning also helps to ensure you have foreseen all circumstances so last-minute disasters are far less likely to happen.
Whether you have to move ten or a hundred workstations, it's important to make sure all your equipment can be moved as quickly and efficiently as possible. Planning and scheduling each step in advance will make things go more smoothly. It's worth making a plan of your new office layout and deciding where each piece of furniture is going to go before you start the moving process.
Involve all employees by getting them to pack up their own workstations prior to the move. This way there is the least chance of items getting lost during the move, as each person will be responsible for their own items, both work-related and personal.
2. Select the Right Project Manager
Communication is vital during any office move. It's highly important that everybody involved knows what they are expected to do and when they have to do it. Any wasted time can be highly costly to your business. This is why it's essential that you select someone who is capable of overseeing all the details of your move.
Office managers are generally extremely busy and will not necessarily have the time to plan the logistics of an office move on top of all their other duties. It's often a better idea to give the task to another employee who has excellent organisational skills. However, you may not have anyone else suitable for the job, particularly if you are a small organisation. Hiring an outside move management specialist can often be an ideal solution, as they have experience of office moves and know what is required.
3. Move at the Right Time
By scheduling your move during non-business hours, such as an evening or weekend, you will cause the minimum disruption and downtime to your business. However, it's important to make sure you arrange access to the building in advance.
4. Notify your Building Manager
Your building manager will be able to arrange access to the building if your move is scheduled outside office hours. It's important to give them sufficient notice so they can make any necessary arrangements.
If you are moving within normal business hours, your building manager will still need to be notified in advance, as there may be certain procedures you have to follow such as taking precautionary measures to protect the floors when moving heavy objects. You may also need to reserve elevators at particular times.
5. Hire Professional Movers
Even if you don't require a moving truck, it's still a good idea to hire professional office movers. They have the experience to know what is required in terms of health and safety regulations, and know the correct and safest ways to disassemble and reassemble furniture with minimum risk of injury. They also have the training and resources to make sure items are lifted and carried correctly.
A professional office mover can also provide move management services, to take the stress out of the process for you and your employees. This way your move will go as smoothly as possible, and your business will suffer the least possible downtime.
If you are based in the Darwin area, contact Top End Removals to discuss your internal office move requirements and get a quote. We can move most business operations, large or small!